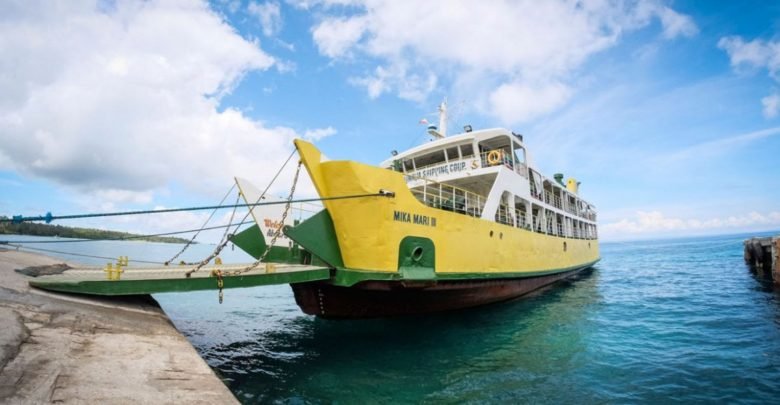 There is only one RORO ferry boat : Ormoc City to Camotes Island and vice versa everyday. It is operated by Jomalia  Shipping Corporation. The ferry boat leaves Jagutapay, Tudela, Camotes Island at 5:30 am and arrives at Pilar, Camotes Island at 7:30. It leaves Pilar as soon as it drop offs the passengers and vehicles bound for Pilar and loaded those bound to Ormoc City. The estimated time of arrival at Ormoc City is 9:30 am. But all this depends on how prompt the ferry leaves in Jagutapay port and the time it spent in dropping and loading of passengers in Pilar, Cmaotes Island.
Please note that there is no ticket booth in the ports of Jagutapay, Tudela and Pilar, Camotes Island. Tickets will be purchased directly at the ramp of the boat on a first come first serve basis. At Tudela it opens at 4:45 am while in Pilar as soon as the boat docks. In Ormoc City, the ticket booth at the passenger terminal opens at 12nn but during peak season it may open as soon as the boat arrives in the port at 9:30 am also in the first come first serve basis.
Rates per passenger are as follows :
The RORO fee of a 4 wheeler private car from Tudela, Camotes to Ormoc, Leyte is Php1,600. Please do not forget to pay the Php129 RORO terminal fee at the Philippine Ports Authority Office in Ormoc City.
If in case you cannot board the ferry boat because it's already fully booked, you can ride in the Junmar motor/pump boat. It is located just outside the Ormoc Port Passengers Terminal behind the Ormoc City  Market. They have 2 trips daily.
Please visit Jomalia official site: Click Here
TICKETING OFFICE

Mandaue Office                  
:
S.O. Albano St. Subagdaku, Mandaue City
Contact no. (032)346-0421 to 23(Please look for Lovely)
Danao Ticketing Office
:
Danao Port, Poblacion, Danao City Cebu
Contact no. 
+639261346930(Globe) 
+639284066617(Smart)
Consuelo Ticketing Office
:
Jomalia Private Port, Consuelo, Sanfrancisco, Camotes
Contact no.
(032) 318-1549
 +6391763159451 (Globe)
 +639396021738 (Smart)