Time flies so fast. It's still vivid in my mind on how excited but anxious we were upon knowing that we are expecting a baby again. After having a stillborn baby with our first child when she was still 8 months in my tummy you cannot blame us to worry especially with the complications with my pregnancy.
At 4 months of my pregnancy I was confined at General Santos Doctors Hospital due to threatened abortion, that was last March 9, 2009. Then I had my 2 weeks complete bed rest after I was discharged in the hospital. After a week that I was able to go back to work I was again confined in the hospital due to enlarged kidney because of the kidney stone this time at Mindanao Medical Center. I was again advised for complete bed rest for almost 2 months. I had my constant spotting and bleeding. Sad to note that along with our journey, my OBGYN Aline Miguel died because of cardiac arrest as a result of allergy.
To make the long story short I gave birth on August 14, 2009 at 12:10 am. He has the same birthday with my Dad and eldest brother Garnneth. During his 1st birthday we had a festival theme birthday party with a fusion of Super Man. On his 8th birthday, I planned to have a festival themed birthday party again with an improved version. But it was not realized due to financial constraint.
It's not sour graping but I love how we celebrate Blithe's 8th birthday. It was such a wonderful experience to all of us and Blithe enjoyed very much together with his sisters and cousins. My brother Ian with his family visited us the day before his birthday. So we invited them to stay and attend Blithe's baptism the following day.
So what we do on his birthday?
We started it with a birthday song and a cake from Iya, Sunshine and cousins. Then we wen to the church for his baptism. I can see on Blithe that he was so excited. Infact he is very proud to tell people that he is going to be baptized on his birthday. The baptism program was so simple yet it was a great experience to all of us.
The conducting was Gilbert, the 2nd counselor of the Bishopric as well as Fritz's friend. The chorister was Iya and the openning prayer was given by Lyco while Neu gave the spiritual thought. Sunshine gave her special number too. Fritz was the baptizer, who confirmed and gave the gift of the Holy Ghost as well as welcomes Blithe and shared his inspirational message. But beforehand, Blithe shared his very short testimony. It was very simple but very edifying and memorable experience. I recorded the program and the message of Fritz so that time will come Blithe can watch it again and watch the message of his Dad and be reminded of his Dad's admonition and expectation on him. It's one of my dreams come true that my child will be baptized and confirmed as member of the church by his dad.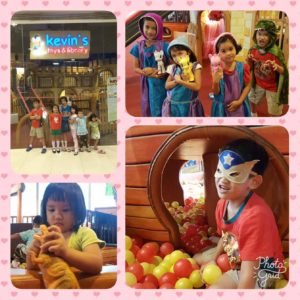 After the baptism, the kids played at the Kevin's Toys and Library in Veranza Mall for an hour. They really had fun. They even have their role playing with the costumes they're wearing.
Then we ended the day with a dinner at Yakimix Sushi- Smokeless Grill Restaurant in Veranza Mall. It was a simple celebration but a memorable one.