This time we share our experience in Mactan Cebu International Airport Experience For New Immigrant. We choose this airport simply because it's not crowded and we feel at home. We arrived in Cebu on May 30, 2017. We arrived a arrived a bit early before our flight going to Japan because we still have attend PDOS. We allotted two days buffer in case we can't attend right away. Our flight going to Japan is at 8am of June 6, 2018.
The driver that we booked did not show up
We book a van to leave Russell's Pension House at 3am going to the airport. But it's already 3:25 and the van didn't arrive. Fritz called the driver but he said that he's not coming. He thought it will be on the next day. We all felt a bit worried. Kuya Dong and mom immediately went outside to look for a car. Fritz even suggested to get a jeepney, afraid that our baggages won't fit in two taxi cabs. But jeepneys are not allowed in the airport. Fortunately we were able to book a 6 seater and a sedan car through Grab. The seven baggages fit in the Toyota Innova Car while two luggages and 1 handcarry bag were in the Nissan Almera car.
Luggage weights
The airport is not crowded when we arrived around 4:20 am. We left the kids first with mom at the waiting area while Fritz and I carry the luggages going to the check in counter.  The check in counter is still closed and opens at 5:30 am. So while waiting we decided to we weigh our bags to make sure it didn't exceed the 23 kls per piece limit. The weight of each one is almost the same as the weight when we weigh it at home. For example, one box weighs at 22 kls in my list but in their weighing scale the weight is only 20.5. So this just confirms that my computation of our luggage is correct.
Terminal Fee not yet paid
Fast forward, we thought that the travel tax and terminal fee are already included in our ticket. Good thing I check with the travel tax and terminal fee counter if it's indeed included. Only to find out that only the travel tax is included in the ticket. We checked our peso money on hand. We even included all the coins we had and we are still short of Php1,500, so Kuya to the rescue. I went back outside to fetch the kid and also asked Kuya Dong for our terminal fee.
Check-In process
It's still 5:15am but the counter attended already called us to check us in. She checks the weights of all our baggage first, then put the tags on. She advised us that we will pick up our baggage at Montreal Airport and then check in again for our flight to Moncton. She handed me 2 sets of boarding pass, one is for the Manila to Narita and the other one is for Narita to Montreal flight. She also advised us that we still need to check in at Narita Airport with Air Canada. Also the baggage claim tags were also given and reminded us not to lose it. The counter attended was so nice. She really knows what customer service means. Philippine Airlines really is the Heart of the Filipino.
Final Farewell
Mom and Kuya Dong waited us outside. After checking in we went outside to bid our farewell for the last time. For the past two weeks we had our piecemeal farewells and goodbyes with our friends and family. This time is the last one. I don't want to elaborate it here. We shed lots of tears already almost everyday. It's not easy but going to Canada is our dream for our family.
Immigration Process
After saying our goodbyes we went inside and go through again the security screening. Before going to the second security screening our boarding pass and terminal fee was checked. The guard didn't let us fall the line anymore in the second security screening but let us go through directly on the next x-ray scanner. Then afterwards, we went directly to the immigration area.  We were already called by the immigration officer when we realized that we forgot to fill out our Departure Card. So we step aside and fill out our cards at the back.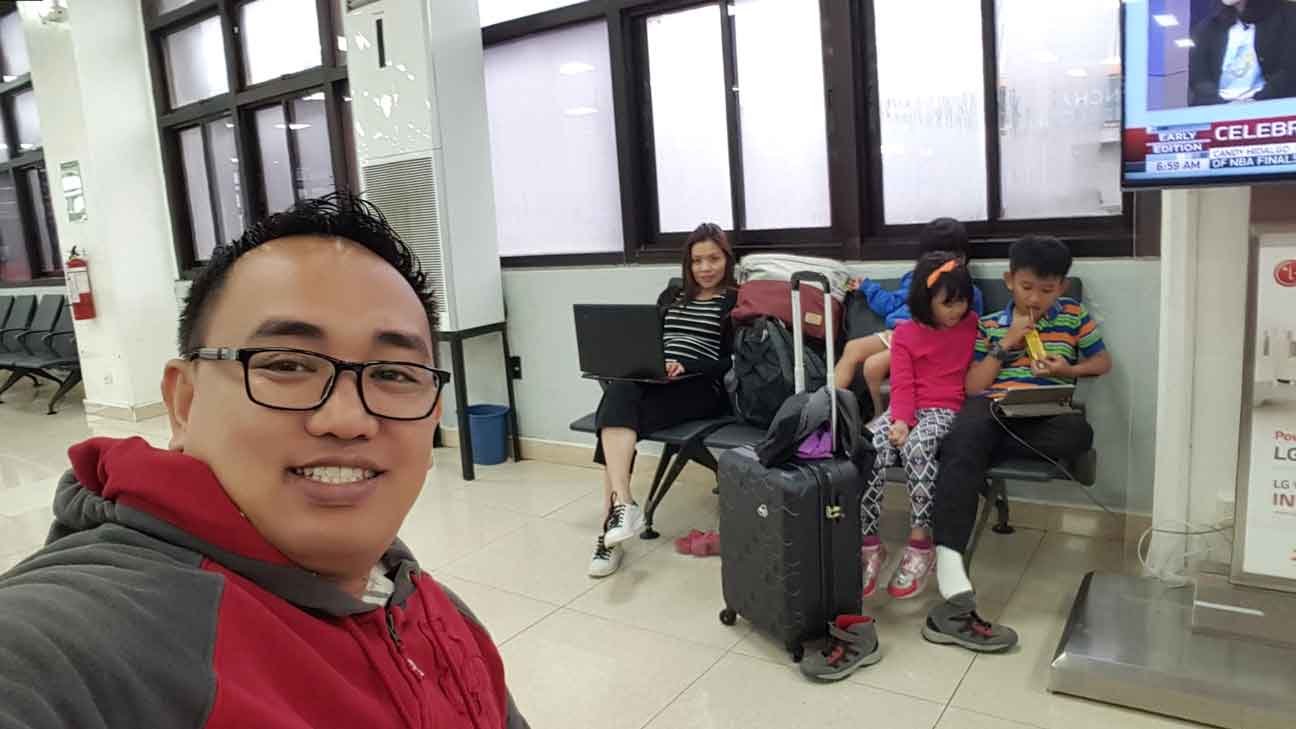 The process was quite fast. The officer just asked us if it's our first time. Then he checks our passports and encodes something in the computer. Afterwards, he took a picture for both Fritz and I as well as had our finger print. In less than 10 minutes we are done with the immigration officer.
We are really right with our decision to flight out in Cebu. Our departure process was so smooth and it's less crowded.